CLEARAUDIO INNOVATION BASIC WOOD TURNTABLE
"There isn't anything Basic about the Clearaudio Innovation Basic Turntable…Recommended with no hesitation." – Mohammed Samji, Part-time AudioPhile USA

"As I started side one and listened to the first track…Within 5 seconds, I put down my paper and pen, and had no need to take notes. I just laid back and let the entire slide play." – Mohammed Samji, Part-time AudioPhile USA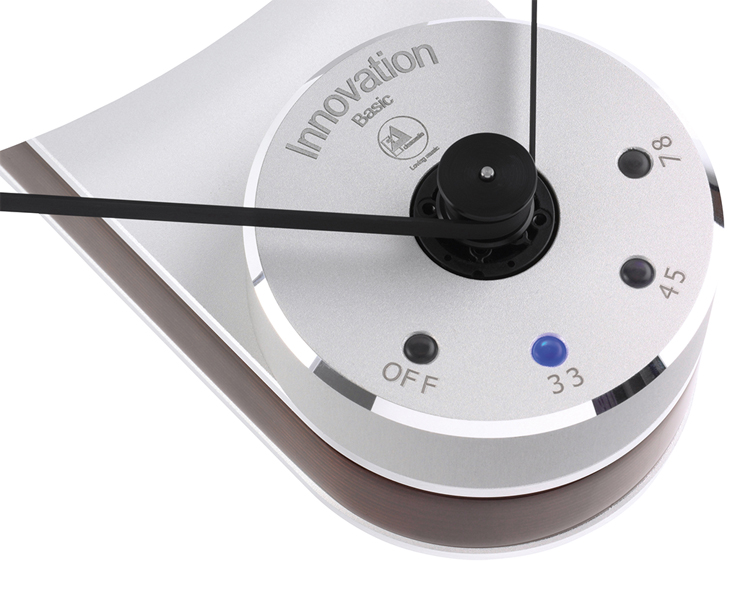 ABOUT
The Innovation Basic Wood is based on the technology of the Clearaudio Innovation series and is the entry level turntable for using both 12" tonearms and multiple tonearms, both radial or linear.
Its resonance-optimized chassis shape is based on the proven success of Clearaudio's three-point or "tr-star" design — a combination of Panzerholz and aluminum skins. The Innovation Basic Wood uses Clearaudio's patented CMB (Ceramic Magnetic Bearing) technology, where the platter magnetically levitates on an inverted bearing attached to a low-friction ceramic shaft. The high-torque 24v DC motor is equipped with electronic OSC (Optical Speed Control). The high-density, dynamically balanced 38mm polyoxymethylene (POM) platter provides excellent dimensional stability.
The Innovation Basic is available in silver or black aluminum with Natural or Piano Black Lacquer Panzerholz wood.
---
SPECIFICATIONS
| | |
| --- | --- |
| Construction details | Resonance-optimized chassis shape, belt-driven with optical speed control, dynamically balanced 40 mm / 1.75" POM platter |
| Speed ranges | 33 1/3, 45, and 78 RPM, convenient electronic controls |
| Motor | High-torque 24v DC motor |
| Bearing | CMB (Ceramic Magnetic Bearing) |
| Platter | CNC-machined POM (polyoxymethylene), 40 mm thickness |
| Speed accuracy | less than +- 0.05 % |
| Weight | 26 lbs without tonearm and power supply |
| Dimensions | 18.86" x 19.09" x 5.55" |
| Other special features | OSC (optical speed control) in real time via infrared sensor, playback with two tonearms possible |
| Warranty | 5 years |